Jens Kuphal – Years of experience in team and production management, together with an unrelenting passion for ocean sailing, allow Jens Kuphal to create the necessary framework and structures for Offshore Team Germany's long-term success.
Starboat world champion Robert Stanjek, born in 1981, is one of Germany's most successful sailors. He has won numerous national and international titles and landed sixth place at the 2012 Olympic Games. The young skipper first gained recognition when he won the Fastnet Race in 2013. One year later, Stanjek completed his training for the 2014/15 Volvo Ocean Race with the Dutch "Team Brunel". Shortly thereafter, German sailing legend Jochen Schümann nominated Stanjek as helmsman of the 30-meter-long maxi yacht "Esimit Europa 2". In 2015, Stanjek won the Fastnet Race for the second time at the helm of the Mini-Maxi "Momo".
Michael End has been passionate about sailing since his childhood. Today, the successful businessman lends his full support and enthusiasm to Offshore Team Germany and its ocean sailing endeavors. His primary motivation is to "bring Germany back to the starting line of offshore racing."
Annie Lush, born in 1980, is an Olympian, round the world sailor and quadruple Match Racing World Champion. In 2014/15 she competed in the Volvo Ocean Race with Team SCA, becoming part of the first ever female team to win a leg of the race. She went on to race with Team Brunel in the 2017/18 edition, as well as racing on the World Match Racing Tour. At university Annie was part of the successful Cambridge University rowing crew who beat Oxford in 2001.
Junior World Champion 2016, multiple German runner-up and champion in 2020: Phillip Kasüske, born 1994, is one of Germany's greatest talents in the Olympic Finn dinghy. For a long time he hoped for the chance to take part in the 2020 Olympic Games in Tokyo. But when the Games were postponed by a year, Phillip Kasüske ended his Olympic ambitions. The former sports soldier is versatile in sailing, already has sailing experience and is the power machine on the grinder aboard the Imoca Open 60.
Raised on the Île d'Yeu in the Atlantic, a passionate sailor, a materials technician in the yacht-building industry, a committed campaigner for marine conservation: Benjamin Dutreux is a maritime enthusiast. The 31-year-old competed in his first regattas as a 13-year-old. In his student days, he switched from beach catamarans to match racing. In 2015 to 2018, he sailed in the French Solitaire du Figaro stage race. He caused a sensation in his first participation in the Vendée Globe, which he finished in ninth place in January 2021.
Technical Project Manager
Born in England in 1976, Joff Brown has enjoyed a long and successful career as the project manager of high-tech sailing teams. He has managed numerous IMOCA 60 campaigns since 2000, including the "Hugo Boss 6" which he built for Alex Thomson Racing. Joff is responsible for the performance and reliability of the yachts and boasts to date a 100% finisher rate. Moreover, he is a member of the IMOCA Technical Committee.
After sailing in his youth and a brief Olympic campaign, Ian Smyth, born in England in 1984, quickly set foot in the big boat and offshore sailing scene. For Ian, sailing is more than a passion – it's his calling. He has distinguished himself with numerous athletic successes and was part of Team New Zealand's shore crew during the 2004/05 America's Cup. Since then, Ian has been in charge of various refit, new build and regatta projects, in addition to being boat captain of the IMOCA 60 "Hugo Boss 6".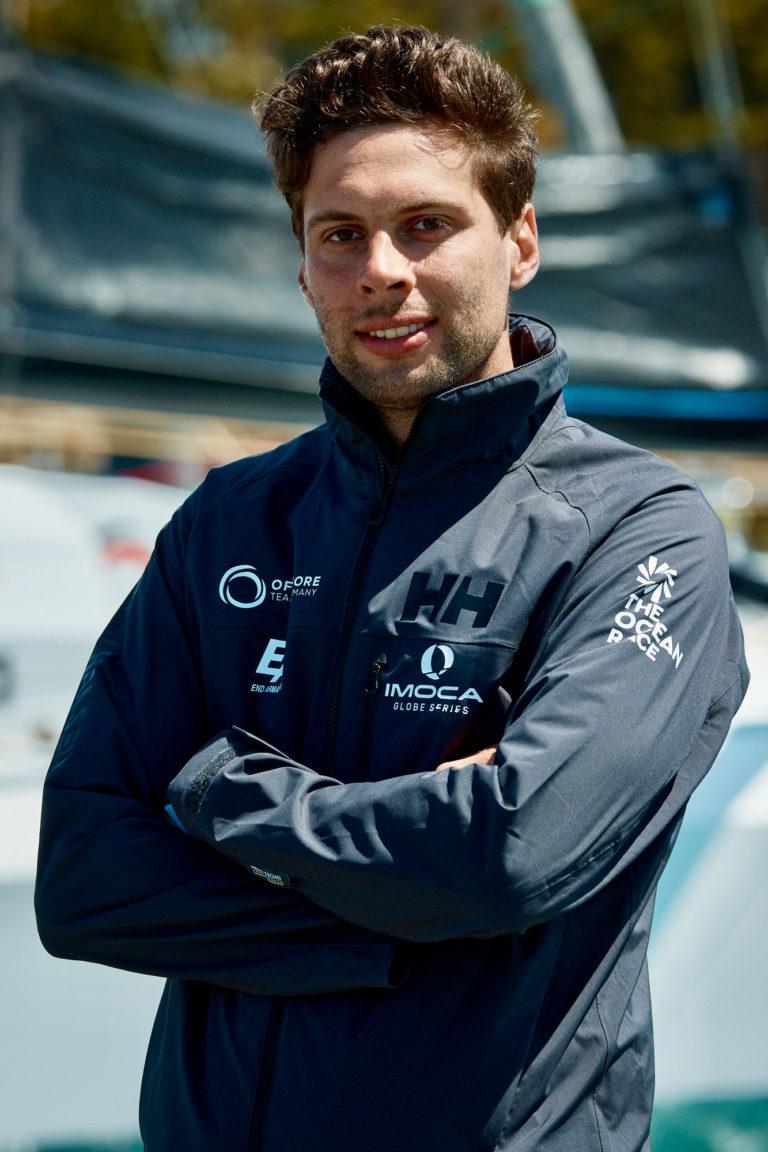 Born in 1986, Morten Bogacki began sailing at an early age: starting with the Optimist, the International 420, and then the Olympic 470, he has various championship titles and a successful run with the national team under his belt. In 2016, he obtained his medical license, but even during his studies, he had sailed countless miles in the Atlantic and Baltic Sea in the wake of his family's own mini series. With two wins at the legendary Silverrudder Challenge, this all-around talent demonstrated a smooth transition into shorthanded offshore sailing.
Born in 1967, Ralf Abratis started sailing on the lakes of Schleswig-Holstein. After intensively competing in regattas during his youth, his career compelled him to take a break from dinghy sailing for a couple of years. In the mid-90s, however, he celebrated his comeback. Today, the hobby sailor and freelance journalist turned newspaper and magazine editor is able to combine his passion and profession. He has been actively working in public relations for various sailing events for the past several years.